Bulgur tahılı - Bulgur wheat​
#IngredientoftheWeek #MakeitYourself #Kofte #Bulgur #Vegetarian #Vegan 
What is bulgur?
I'm excited to introduce you to your new best friend: bulgur wheat.
You might think you know it from the little flecks in tabbouleh salad but bulgur wheat is used all throughout Eastern Europe, the Middle East, North Africa and India too. It's healthy, it's versatile and it's delicious.
Considered a whole grain, it's actually the cracked and pre-cooked kernels of a variety of wheat grains, usually durum.
As bulgur is made from wheat it is not suitable for a gluten-free diet.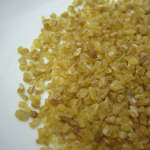 #FunFact One cup of bulgur has fewer calories, less fat, more than twice the fibre and four times the folate of brown rice. Is it… a superfood?
#FunFact2 Bulgur wheat keeps for 3-5 days in the fridge so it beats rice on 5 counts!
Bulgur wheat in Turkish Cooking
Bulgur is a staple of Turkish cuisine, adding texture and padding and being a vehicle for the flavours of biber salcasi and spices and olive oil.
Tony Sak, of the much missed El Turco Loco Turkish vegan restaurant in Sant Antoni, shares with us a couple of his favourite bulgur recipes – lentil kofte and eggplant rolls.
All recipes use fine-grained bulgur.
If coeliac, you could replace it with brown rice and quinoa blend.
Tony's kofte tips!
Don't let the bulgur get cold if you want to knead it into koftes or kibbeh.
Add a little oil to your hands and the mixture when kneading it, so it will keep its shape when it cools.
Recipe: Lentil Kofte – Mercimek Köftesi

Lentil kofte is often served as an afternoon snack in Turkey alongside strong Turkish tea.
It's a spring dish that is light and healthy and has a lentil-y protein kick that will leave you satisfied until dinner.
Ingredients:
1 cup b

ulgur

1 cup l

entils
3 x spring onion, finely diced
Juice of 1 lemon
2 tbsp olive oil
Parsley
Salt to taste
Slice of lemon to serve
Optional: sumac
In one pot (or bowl) put 1 cup of bulgur and cover it with boiling water covered about 2.5 cm above the bulgur. Make sure the pot is big enough as it will double in size. Place a lid or plate over the pot and leave it.
In a separate pot put red lentils in unseasoned hot water. The ratio of water to lentils is 1 cup of lentils to 1.5 cup of water. Bring the pot to the boil and then simmer for 10-15 minutes depending on the consistency of lentil you want. Longer for softer lentils, shorter for crunchier.
Once the lentils are ready, take them off the heat. Drain the bulgur and add it to the lentils and their remaining water. Cover with a lid or plate.
Wait until all the water has been absorbed.
Now it should be cool enough to touch. Add the chopped spring onions, lemon juice, olive oil, parsley and salt to taste, and optional sumac. Kneading the mixture with your hands as if it were dough. In 3-4 minutes it should be an orange paste with flecks of the other ingredients. It takes the bulgur the longer to break down than the lentils, when they're broken down you know you're done.
Now is the time to shape it, little footballs, ovals, or balls are common but the key is to leave it bite sized, or two bite sized.
Serve at room temperature with a squeeze of lemon juice and Turkish tea.
For Turkish tea, bring Turkish tea leaves and water to the boil and then simmer for 5 minutes. Fill each tea cup with one third or half with tea and top up with hot water. Turkish tea can be served with sugar or without.
Enjoy your kofte!
These can be refrigerated for up to 3 days, just let them come to room temperature naturally before eating.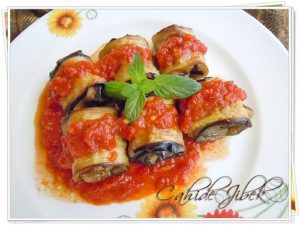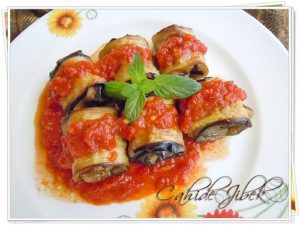 Recipe: Eggplant rolls with two variations. Patlıcan Sarma
Eggplant is one of the best and most versatile fruits (yes!), it's used widely in Turkish food as well as across Asia and the middle east, from baba ghanoush to baingan bharta and fish flavoured sichuan eggplant, it's a perfect vehicle for flavours and can be grilled, fried, steamed, boiled roasted.. anything. Actually not raw… but anything else.
In this recipe the eggplant is fried and roasted which makes it soft and sweet and still juicy.
Tony's sarma tip!
This is fun to make with friends: one on eggplant duty, one on sauce and one on filling.
Ingredients:
2 medium eggplants
Olive oil for frying
Toothpicks
Filling option #1 Potato filling
Butter
1 medium onion
biber salcasi
1 zucchini
1 large carrot
2 medium potatoes
Filling option #2 Bulgur filling
Butter
1 medium onion
biber salcasi
1 cup of uncooked bulgur
For the tomato sauce:
Butter
1 medium onion finely diced
2 cloves of garlic
optional spoonful of biber salcasi
1 can of tomatoes or 4 large over ripe tomatoes diced
1 tablespoon of dried mint (Turkish if you can get it)
4 tablespoons of fresh basil torn or cut up
Slice the eggplant about 2mm thick and soak in salty water until the water will goes brown, about 20 mins, then pat them dry.
Shallow-fry the eggplant.
Eggplant frying tips:
Fry in olive oil.
When you fry slices of eggplant for this dish you want the heat to be medium to strong, and already hot before you put the eggplant in otherwise it will soak up too much oil.
If you cook it at too strong a heat it will burn and crisp up the eggplant so it will be hard to roll. So please ensure you have the perfect temperature! Don't stress though lol.
If it goes papery and dark it is overcooked and you'll just have to eat that one, sprinkle with a little salt first :). If the oil isn't warm enough it will soak up too much oil, but… you can pat the extra off with a paper towel. If it rips or gets a hole, you're rolling it up so it will be cover itself up.
Leave the eggplant aside to cool.
Filling option #1
Get working on the Turkish sofrito – melt butter in a saucepan, add diced onions and sauté. When the onions are translucent add a large spoonful of biber salcasi and mix around until it's coated and the aroma is released – then add in the grated potato, zucchini and carrot and sauté until cooked through. Let this mixture cool.
Filling option #2
Same Turkish sofrito – melt butter in a saucepan, add diced onions and sauté. When the onions are translucent add a large spoonful of biber salcasi and mix around until it's coated and the aroma is released – then add in the bulgur and stir until it's evenly red, add 1.5 cups of hot water and bring to boil stirring all the time. Once it boils bring it back to a simmer until the bulgur is cooked. Let this mixture cool.
Lay out the eggplant and put a large spoonful of either mixture into it and roll it up gently. Secure with a toothpick. Place it in a pyrex or baking tray. Do this until the eggplant and mixture is finished.
(If the bulgur mixture is too crumbly you can knead it and make little koftes to make it easy to roll up.)
Make a light tomato sauce. Start with the same Turkish sofrito – heat up a little butter in a saucepan, then add finely diced onion and this time some garlic and sauté on a medium heat until translucent, optional dollop of biber or dolmates salcasi. Add tomatoes and bring to the boil and then reduce heat and simmer until it's a nice consistency and not too watery. Take off the heat and stir through the mint flakes and basil. Season to taste.
Let it cool a little and then pour this over the eggplant rolls. Then pop them in the oven for 10 -15 minutes at 210C.
Then it's ready to eat!
Enjoy with the friends you made it with and some Turkish Efes beer if you can find them!
Where to buy Turkish ingredients in Barcelona
Mercat Arab Carnisseria y Alimentacio Carrer de l'Hospital, 107, 08001
Carnisseria Arabia Alimentació Carrer de Clot 43, 08018
Cosmo Cash and Carry Ronda de Sant Antoni, 11, 08011
B.H.G Supermercat del Món Carrer del Parlament, 21, 08015
Where do you get your bulgur wheat, biber salcasi and Turkish spices in Barcelona? Share your tips with us on Instagram #sawcerapp #IngredientHuntersBCN @sawcerapp
Kofte picture by E4024 – Own work, CC BY-SA 4.0
Bulgur picture By Maduixa at Serbian Wikipedia
Eggplant roll picture by Cahide Sultan